The first recorded cargo of coffee being imported to the United Kingdom was in the 1700's (a copy of the "Bill of Lading" for it used to be in the Pasqua's Head Tavern, just off Cornhill in London, and may still be there.

A famous coffee shop was founded by Edward Lloyd, which became a favourite meeting place for sea captains and merchants. Because he supplied shipping intelligence, it thrived and later moved to Leadenhall Street and became known world wide as "Lloyd's of London".

Since the 1960's coffee drinking has created a new language, using new terms. Up until then, the only questions to be asked about coffee preferences were "with or without sugar", as most people drank coffee with milk. It was often made with liquid coffee essence, often with the addition of chicory essence e.g. "Camp" Coffee. In the late 1950's dehydrated or "instant" coffee became available, which made coffee available & easy to use for all.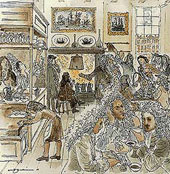 Lloyds of London